The NFL draft is over. To my dismay, I didn't get to watch it. I had to pick Justin up at the airport that night (not at home-I had to drive an hour from my parents' house to Fargo) and it was just ending when we arrived back there at 10 p.m. I thought I heard my mom say she recorded it but she actually meant that she recorded the TV show "Draft Academy" which featured John Crockett, an NDSU player hoping for the NFL.
However, I was able to see some good draft footage while watching the most recent episode of Draft Academy, which was being filmed almost live. There were only a few days of lag between the current weekly episode and real time. It was a good show. It is interesting to see how the players (ahem, Jameis Winston, where those crab legs worth it? How about the soda at Burger King? How about playing with that BB gun? And the Marijuana three days before the draft, Shane Ray?) were coached to address their various character issues and he sure had a ridiculous list of them.
Part of the fun of the big production that is the first round of the draft is seeing the players in their suits (which I learned from the show are just brought to their rooms in a bag, all coordinated and styled) with their crazy hairstyles. On Draft Academy I saw a nice style that caught my eye and it was worn by Todd Gurley, who also was drafted by my adopted team the St. Louis Rams!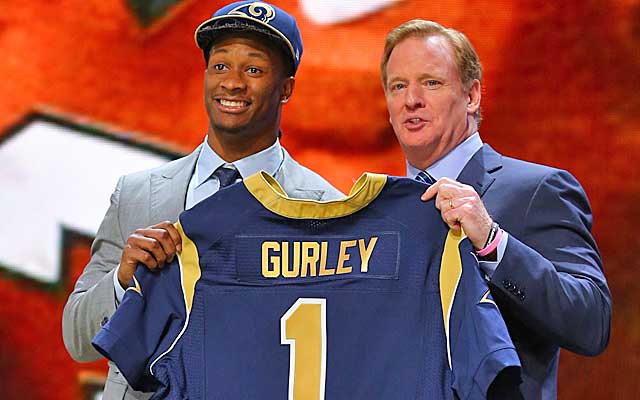 Of course all of the photos are after he was drafted when he has his new team hat on but believe me, it was an artistic display of hair that is rarely seen. He seems very likeable. Of course, I looked at his Wikipedia and sure enough he was suspended in college for violating NCAA rules about taking money for autographs and memorabilia. And not just a few times. It was hundreds of pieces of autographed memorabilia. UGH. So many issues...
Once again, my opinion that having kids "specialize" in certain sports at a young age to be more competitive is pointless was maintained. Of the players I researched, many were dominant not only in football but other sports as well. Jameis Winston is such a good baseball player that he was drafted into the MLB right out of high school but decided to go to college instead where he also played on the baseball team. Gurley was a track star in high school and represented team USA in some junior world competition. Marcus Mariota, the 2nd overall pick, was also a track star in high school. Putting in lots of time is essential, but can only get you so far I guess if you don't have some sort of exceptional underlying athleticism.
Speaking of that, this guy wasn't drafted but signed with the Vikings earlier this spring. His name is Babatunde Aiyegbusi. He's 6'9, 350 pounds and 27 years old. He never played in college and he's Polish where American Football barely exists! Whaaaaat? Where did this guy come from? There isn't a lot of information about him out there. He has an extensive Wikipedia page but, not surprisingly, it's in Polish.

He was a security manager in Poland. Gee, I can't imagine why. No one would try to pull anything that might violate security if this guy was in the vicinity. Hopefully we will see him playing this fall.
The best part of the draft was hearing of the NDSU players who were drafted (yeahhhh Kyle Emmanuel!) and signed as free agents. I was disappointed about Crockett not being drafted after seeing him go through the ups and downs of being an underrated player in the draft process but I think he will prove himself with the Packers.