I'm not especially loyal to most products that are intended for someone like me (female, youthful, mildly vain, "girly"). I love to pick a new body wash and face wash and body lotion every time I run out of the old one. As all women learn at a young age, there is no "miracle" hair product so I am glad to try anything that looks and smells appealing and love to try new shampoo and conditioner when my bottles run out. I have nail polish bottles from every price point ranging from the nail salon brands that cost $8.00 each to the cheap $1.99 "Sinful Nails" brand that is always openly displayed at Walmart.
The only products I am really loyal two can be counted on one hand.
1. I've gone through two or three bottles of Clinique Dramatically Different face lotion every year since I was 13.
2. Many fashion magazines have designated this mascara as "iconic" and a "classic". I just buy it because it is one of the few that comes in the "Blackish Brown" color (black looks too intense on people who have red hair and naturally white eyelashes!) and also in waterproof. It is surprising how rare this combination is. Also, it is one of the cheapest out there and I use a lot of it so that matters. I used to sometimes deviate and use another formula that had a big, fluffy brush and came in a yellow tube but they stopped making the dark brown in waterproof so I stopped buying it.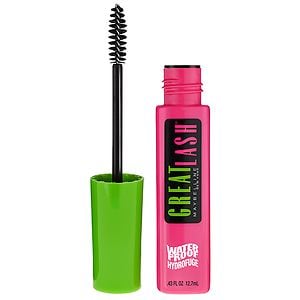 3. Back when I was 19 and took a class to be a water safety instructor and taught swimming lessons the summer after my freshman year of college I ruined my hair. It was dry, frizzy, and nothing could help it. I was loading it up with Pantene conditioner and some crappy hair gel to help the frizz and it just kept getting worse. The key to not ruining your hair with chlorinated pool water is to soak it with fresh water before getting it wet in the pool. Since it is already soaked it will not absorb the damaging chlorinated water. This advice also applies to prolonging the live of a swimming suit that is worn in chlorinated pools. In addition to the soaking, it helps a lot to use a shampoo intended to remove buildup afterwards. I ruined my hair teaching lessons because I always started out the lesson intending to stay on the pool deck and tell my students (the older ones anyway) what to do while staying dry. Of course, this never lasted and I always ended up jumping in to demonstrate. A stylist at the outdated but always reliable JC Penney Salon in Grand Forks told me the secrets to keeping your hair from turning into a fried and disgusting mess of mineral deposits and chemicals and I have never forgotten the advice. I have been swimming regularly for exercise since 2009 and Paul Mitchell Shampoo Three is the best and most easily available chlorine removing shampoo I have found. And it has a lemon smell which some people might hate but I love!
4. I've never been into tanning beds and I actually took seriously the articles in Seventeen Magazine that warned late 1990s teenagers about the health and cosmetic dangers of sun exposure and tanning. While most other girls in my class and at my high school tanned as much as they could in tanning beds for prom and just for appearances in general I never did. When I was lifeguarding I used several bottles of sunblock on myself every summer and sat under the umbrella that we had even though I always had to put it up and take it down for whoever was following me in the rotation. I heard comments from people of all ages, even parents at the pool, for being so "white", "needing a tan" and how I was "going to fry if I didn't get a base tan", I listened to backhanded comments from other girls about how they tanned so they didn't looked "pale and sick" and I still hear comments today from strangers in the locker room sometimes which is kind of rude and weird even if they are well meaning. And I don't care...I am still going to use this Neutrogena UltraSheer that I have been using since college. I like it because it is meant for faces and is indeed ultra sheer, it smells good, and is affordable and often comes with a little free mini bottle or chapstick attached to the main bottle.
And...I think that's it. Those are the only products I buy religiously and repeatedly. Until now...I think I found a new one.
I saw this at Walmart earlier this week. I had used another cheap sea salt spray a few years ago but it seems to have been discontinued. This one caught my eye and it is only $4.00 per bottle so I bought the accompanying "Beach Babe" texturizing balm to match it. When I got home and used them I was delighted by the tropical smell. I am in love. I want to put this cheap crap in my hair every time I am in the bathroom. And it seems to make my hair do some nice things. I already have plenty of texture but if I apply and then just let my hair dry without touching it I get some really nice and non-fuzzy waves. For me that means a product gets my approval! I love anything that contributes to my unkept, unprofessional everyday look!
Speaking of new products, check out this really fun promotion I saw online for Coke (a food product that I am very loyal to!):
http://www.buzzfeed.com/ailbhemalone/coca-cola-have-released-a-range-of-caps-that-let-you-hack-th
In Asia Coca Cola is releasing a bunch of screw top bottle lids that allow you to reuse your coke bottles in various ways including little spray nozzles for watering plants, a squirt gun and a bubble wand! When you but a bottle they give you the set at the store! Coca Cola, you better bring this to America right away!