I bought my nephews Christmas books for Christmas this year (along with a toy...they are toddlers after all! Books don't always cut it!) I bought one of them this book callsed Mistletoe and the Christmas Kittens. It is a real tear jerker. It is about a kitten born on Christmas day who is shunned by the othe cats in the barn because he is green and red. He decides he is going to hide out from then on and lives out in the cold scrounging for food and without a family. The next Christmas Eve, he finds a litter of orphaned kittens (normal colored) and decides they need to find a home with lots of love and warmth, like he would have liked to have. He sees the lights of a farm in the distance and leads the kittens there, believing that the family there will adopt the kittens. he gets a surprise, however, when the family doesn't chase him away in disgust because of his appearance and he finds a note for him under the tree rewarding him for his selfless act. Awwww...happy ending.
After Christmas, I found the book on a table of 50% off Christmas merchandise so I decided to add it to my own children's library. We had Christmas books growing up and it was a fun part of taking out the decorations. There was also a matching stuffed toy to match the book that I hadn't seen when I bought the book for my nephew. It looked like a Christmas version of Allan so I purchased it as well. (That is a google image...I didn't take it).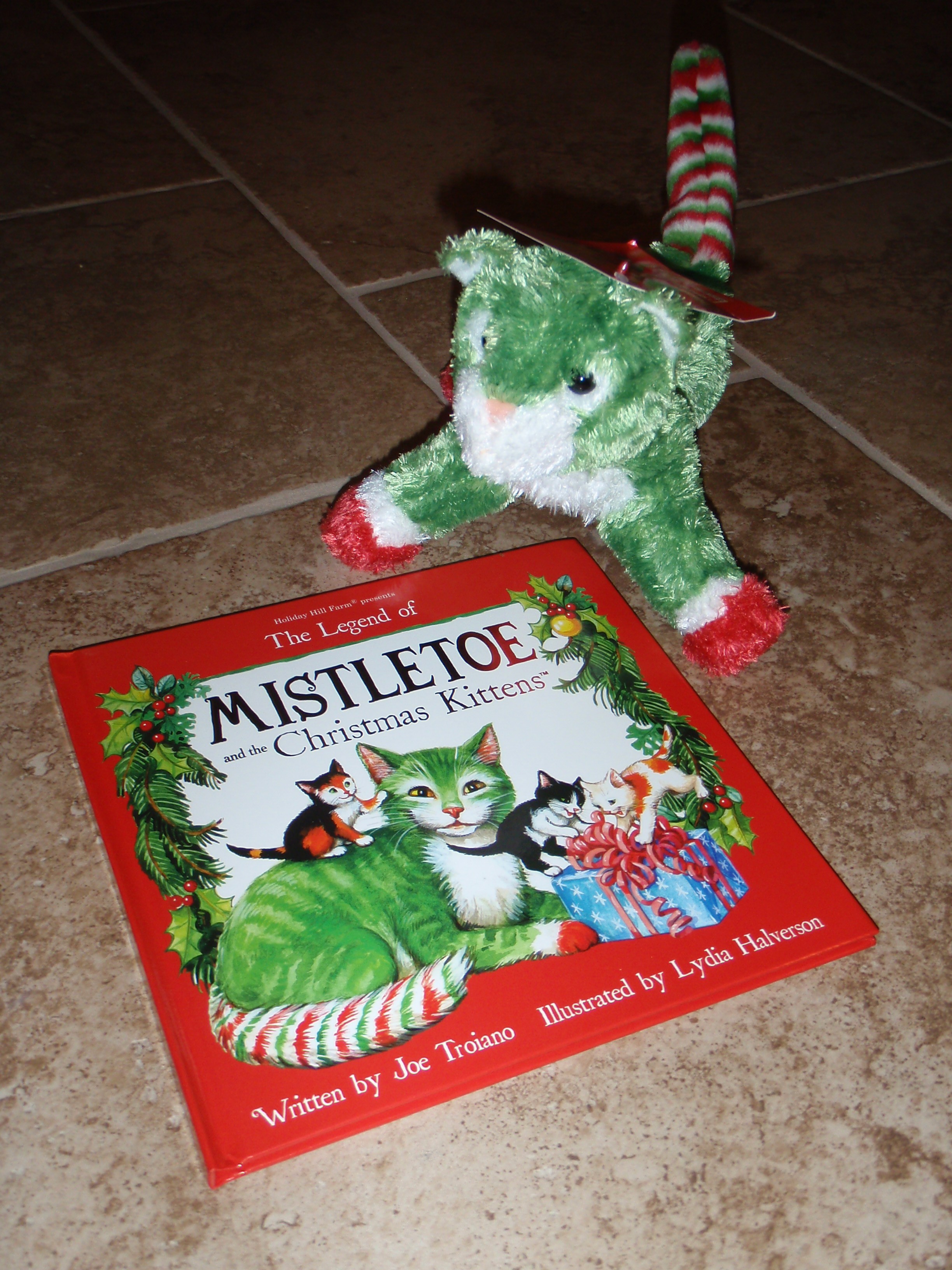 Allan has been going through a kitten like phase where he likes to carry large items around in his mouth like they are his prey or something.
This is the tail I made for my Halloween costume this year...he dragged it out when I was cleaning the closet.
This is a golf club cover that my brother gave me for Christmas. He found it among my gifts soon after I got home after Christmas.
So I was kind of mortified but not really surprised when he dug in the shopping bag and found poor Mistletoe. What a brat...doesn't he know what that poor kitten has been through?!