I am finally finding time to recap the draft...the whole time I was watching it my head was brimming with clever commentary so hopefully I will remember some of it. Although I wasn't able to focus on the first round on Thursday like I thought I would be able to I was able to give the later rounds ALOT of attention while I spent the weekend alone with a recovering baby. I snapped pictures on my phone when something caught my attention. I enjoyed my afternoon of watching and listening to the NFL Network guys discuss minutiae such as hand size down to the 1/8 of an inch and seeing the later round picks be chosen by the teams' guests of honor including geriatric retired players and goofball fan club contest winners who showboated like clowns while the Bears fans in Chicago boo-ed from "Selection Square" which was set up in front of the Buckingham Fountain in Chicago. I have a picture of myself and some schoolmates in front of that fountain when I was in 10th grade and traveled to Chicago for State FBLA. Fortunately for you the picture is in an album at the farm somewhere so you don't have to look at my huge baggy t-shirt and doc marten sandals. It was really hot when we took that trip (like record breaking hot enough to be on the news) so at least I wasn't wearing socks with them.
So, my highlights...Of course the first one doesn't need to be recapped at all. I won't be like the commentators and, in the words of my sister, "beat the sh!t out of a dead horse about all this stuff!" but it was a big day to see Carson Wentz, an NDSU star and child of the town where I live be selected number two overall. It's still hard to believe this is him!
He looks all NFL-ish, doesn't he?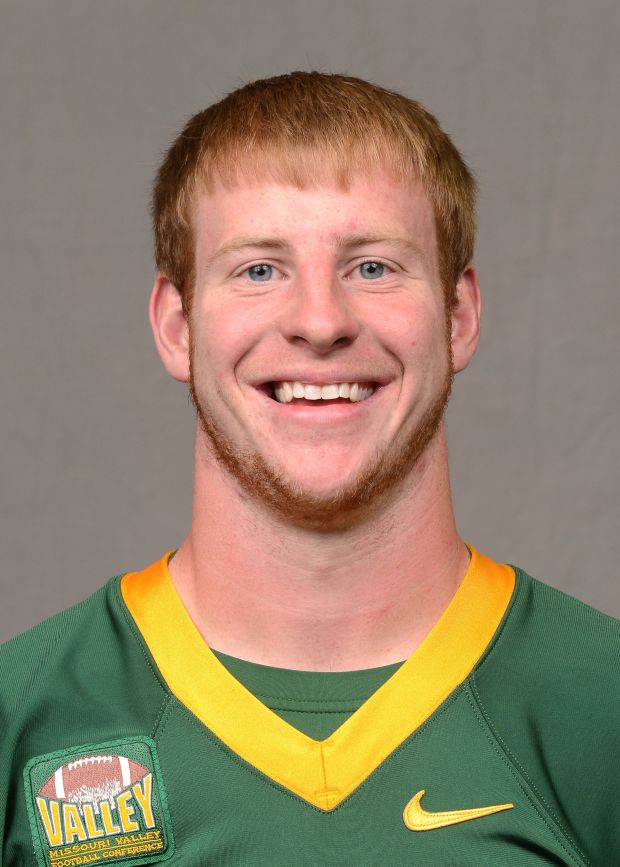 Yes, that's the same guy! I hope he keeps his same upbeat demeanor in the NFL! And yesterday we found out he is on the cover of Sports Illustrated...it just keeps getting crazier!
Another Bison was drafted in the third round. Joe Haeg is going to the Indianapolis Colts. I read about him. He was a walk on at NDSU and was but on the "B squad" of his high school freshman team. As someone who never could quite cut it even with my best efforts when it came to high school team sports I find stories like this very inspiring. It's a story to share with any discouraged person who feels like quitting!
He was the only other player drafted but several others signed contracts and received training camp invitations afterwards including a favorite of mine Andrew Bonnet who is going to the Carolina Panthers.
They should all have gone to the Vikings because they look like they could be on the TV show with their flowing blond hair!
Now on to the other Draft nonsense that I observed as an amused outsider who doesn't really know a lot about college football players beyond the ones that make big news. The third overall pick was Joey Bosa from Ohio State and I found him endearing because when his name was called he really seemed like he was surprised to be third overall. Obviously he was expecting to be in the first round because he was there and I just read that for awhile he thought he might have been first overall before Rams traded with the Titans to be first and get a quarterback. The Titans were 8th so he must have assumed he was going to be 8th. So I guess his bumbling an rather emotional and humble behavior was genuine.
When I was reading about him I actually read the words "Body beautiful college end" describing him on a nfl website. Hmmmm...OK...he is a really big dude I guess.
Here is my favorite hair that I saw...this was early in the second round.
Jaylon Smith here was a first round guy but he got injured so he wasn't sure what would happen then he was drafted 34th by the Cowboys. That's pretty awesome for him. He was very grateful and emotional. I'm assuming the woman on the screen is his girlfriend. Her hair is as impressive as his.
There are always many displays of platonic manly affection during the draft and I caught this fleeing moment of tears and kissing.
This is Derrick Henry who was picked 45th in the second round. Apparently, there were five Alabama players who thought they would go in the first round and only one did so they were kind traumatized and didn't know what was happening. The remaining four were drafted in the second round so I am thinking these are tears of relief. Good for all of them.
On Saturday afternoon I was working on some sewing projects (having only one baby in the house really does feel like a vacation! I haven't sewn since Christmas of 2014!) so I had the draft on in the background in it's 6 hour entirety! Yeah seriously. I was surprised to catch this guy! I hadn't heard of him before but this is really exciting! And that's a big dude.
My favorite story of the day showed up in the fifth round. Suddenly the commentators were interviewing this guy who was apparently the first European with no American football experience to be in the running for the draft. Moritz Bohringer is his name and he is from Germany. He saw a clip of Adrian Peterson from the MN Vikings on YouTube when he was 17 and, since he likes sports, he researched it (he didn't know what game it WAS!) and found out it was American Football and found a team in his city but only five guys showed up so he drove 20 miles to another city and became a star in the European football league (which no one really seems to care about). He came to America to train and attended the combine. Look at him. I think he would fit in with the NFL...
He's like 6'4 and weights a lot and is as strong and fast as any scout would want. His vertical jump was 39 inches. That's like jumping as high as Ben! What the h3ll...where do these athletes even come from? Good think he lives today and not in 1939...he would probably have been brainwashed into the Gestapo's bizarre super breeding program and sent to Norway to impregnate every woman he could. Well, anyway, he had the most humble demeanor and his second language English was endearing and the best thing happened...
He was chosen by his favorite team the Vikings! I can't wait to see how he does.
As the afternoon went on I was starting to lose interest as was everyone else including the commentators but I did see this clip that caught my eye:
This Sandland guy from Montana got drafted and in the clip he is at UND in the Alerus! At least something from UND was on the draft! Hahaha...they actually did have a player who thought he might be and I hoped he would get picked but he didn't. He did sign with a team after though.